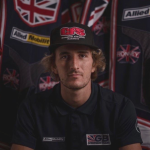 Summary
Professional speedway rider @ Team GB.
Racing for Sheffield Tigers (UK), Stal Rzeszow (Poland) and Piraterna Motala (Sweden) in 2021.
Description
Professional speedway rider for the past 8 years, I'm currently looking for potential sponsors for the 2021 season. Since the beginning of my speedway career I have travelled all over Europe, which has enabled me to develop the interest of a regional, national and international audience. This year I have signed contracts with Sheffield Tigers (UK), Stal Rzeszow (Poland) and Piratena Motala (Sweden). I will be based in Ostrow (Poland) and will be travelling between these three countries.
ADAM ELLIS RACING offers a wide range of advertisement opportunities through sports sponsorship, from TV appearances to promotion on social media and on all of my equipment.
Our preferred sponsor
Happy to work with any company or brand interested in becoming a partner of Adam Ellis Racing
Reach / Links
Greatest successes
1st place in SGB Premiership with SWINDON ROBINS SPEEDWAY in 2017 & 2019
2nd place with Team GB in the Speedway World Cup in 2017
2nd place in the British Under 21 Championship in 2015 & 2017
2nd place with Team GB in the Longtrack World Cup in 2019
Selections in the Team GB squad from 2016-2021
Key figures for sponsors
Twitter : 3600 followers
Instagram : 2800 followers
Facebook : 1500 followers
3 live matches screened every week / 50+ meetings across Europe
Weekly meetings attendance : 20 000
Matches shown live on TV on channels such as Eurosport (243 million subscribers), Freesports (available in over 18 million homes) &Motowizja in Poland, as well as live updates on social media for a total weekly audience of 300 000.
Fancybox.bind("[data-fancybox]", { // Your custom options });