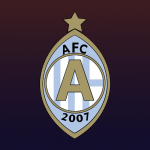 Summary
We are a young team that made the top flight in less then 10 years. We have one of the youngest teams in Sweden.
Description
Vår värdegrund är rötterna i vår förening och samtliga i föreningen ska känna till och ha samma definition av våra 10 punkter. Punkterna är en del av den vardagliga verksamheten.
AFC Eskilstuna är en förening som har sunda demokratiska värderingar och alla som delar denna världsåskådning kan bli medlemmar i klubben.
AFC Eskilstuna verkar under svenska lagar och idrottsrörelsens vision och verksamhetsidé som ska genomsyra allt vi gör.
AFC Eskilstuna vill ge inspiration, utveckling och livskraft som fotbollsutövning innebär för att sprida glädje och utveckling.
AFC Eskilstuna värnar om mänskliga rättigheter, barnens rättigheter och rättigheter för personer med funktionsvariation.
AFC Eskilstuna bemöter motståndare, funktionärer och alla besökare med respekt och vänlighet. Klubben ska alltid representeras positivt och påverka omgivningen positivt.
AFC Eskilstuna är en öppen förening för alla och ingen ska känna sig utanför oavsett sexuell läggning, ambition, kunskap, etnisk tillhörighet, kön, ålder, religion, trosuppfattning, funktionsvariation eller andra olikheter.
AFC Eskilstuna värnar om integration och jämställdhet i samhället.
AFC Eskilstunas arrangemang ska vara en positiv mötesplats för alla besökare. Klubben ska erbjuda tillhörighet och vara en positiv kraft i samhället.
AFC Eskilstuna respekterar allas lika värde och tar avstånd från diskriminering, trakasserier och mobbing i vår förening. Klubben tar avstånd från fusk, alkohol, tobak och droger.
AFC Eskilstuna gör alltid sitt bästa, jobbar hårt och ger aldrig upp. Denna inställning skapar vinnare även när resultaten inte går vår väg. Vilja är talang enligt våra principer.