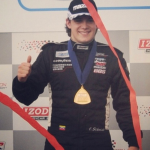 Summary
Race car driver. 5 times National Champion, 4th at World-Final in Siena. 1st at ProMazda Series in Edmonton. analytical and very friendly :)
Description
With a resume of podiums and awards, Camilo Schmidt is looking ahead. At the age of 24 he has grasped the dedication and focus this sport demands, and already has a rack of achievements to prove it.
Earning five national titles Camilo continues on his track to build a highly anticipated career in racing.  His focus, drive and dedication characterize his sportsmanship. 
Formerly racing for Linares Racing in the Pro Mazda series, of all of his podium finishes and titles to date, one that stands out was his win in Edmonton, Canada on the Pro Mazda Series.  Fans witnessed the youngster overcome the track in wet conditions to finish first. The rain was no challenge to Camilo who started nearly last and advanced to the top spot.
Further demonstrating his unique talents as a driver, Schmidt challenged his engineers mid-race when they called for him to pit and he made the quick-witted decision to stay out during the race.  Engineers wanted to make a tire change while he held on to third position. Camilo's judgment call led to a first place finish.
Reach / Links
Key figures for sponsors
Every race (8 Per Saison) are visited by 500 visitors on average and seen by 2100 people on live-Streaming
Over 150 drivers participating Rotax MAX Euro Challenge
My Instagram has 2200 Followers. I reach 770 people with every post
The Club Youtube Channel has 4.8K subscribers
The Facebook website has 1.895 likes
Every race is on TV
By sponsoring me, You will have a very loyal driver and you can reach a clientele with an affinity for Sports