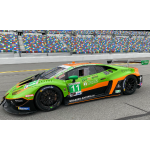 Summary
We are in search for partners for the upcoming 2023 DTM season. We offer the best value on the grid with top level activation.
Description
We as a team work hard to insure you receive the best ROI on the grid. We offer catering at all race events to our VIPs and trackday experiences. Show car appearances, media partnerships across platforms. B2B opportunities. Product placement and sales at events. Also we are the only team with a factory partnership with one of the most prestigious brands in motorsports, Lamborghini! Our drivers are here to serve as your international ambassador, ad placements, company events, etc. There is no better place for you to invest.
Reach / Links
Greatest successes
2017 GT World Challenge Europe 🏆
2017 GT World Challenge Europe Endurance Cup 🏆
2018 24 Hours of Daytona 🏆
2019 12 Hours of Sebring 🏆
2019 24 Hours of Daytona 🏆
2019 ADAC GT Masters Runner-Up
2022 DTM 4th Place
Key figures for sponsors
Social Media numbers: 5,428,037 accumulated reach across social platforms. 3,372,348 views on YouTube alone. 1,320,000 accumulated followers across social platforms.
TV numbers: 44,789,222 accumulated viewership over 217 broadcasts in Germany, DTM is second only to F1. With 17,282,355 accumulated viewership internationally outside of germany this series is one of the biggest motorsports series in the world.
Physical Attendance numbers: A single DTM race can attract upwards of 80,000 fans in attendance.
Media numbers: 5,809,001 accumulated reach in print media outlets. 43,210 accumulated reach in online media outlets.
850,000 euros is about what you can expect as a primary sponsor on a car.