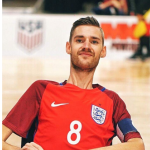 Summary
The Current England Powerchair Football Captain, with huge ambitions in life
Description
I was born with a disability called Central Core Myopathy, this condition means the muscles in my legs don't function as an able bodied persons does.
In 2002 i found a sport called Powerchair Football which changed my entire life forever.
Since the day i found this sport i have grown as a person and have achieved so much within the sport. I am the current England Powerchair Football captain and have been for the last 15 years which is something i am very honoured to have achieved. I have attended 3 world cups and a number of European championships.
I have been playing Powerchair football for over 20 years now. In 2019 we won the European Championships and are the current holders, with the world cup in Sydney next year next for us to attend.
I play for a club team called Aspire Powerchair football team and we have won 7 Premier League titles and 7 cup trophies since we were formed in 2002. I am both the manager, player and the club captain.
Outside of the sport I have a wife and a 6 year old daughter who mean the absolute world to me and all i do in life is for them.
I work part time for the FA as a Disability Role Model which involves attending different disability camps put on by clubs and give a presentation about my story ad also give advise to future players
Our preferred sponsor
I dont have an ideal sponsor just someone that is willing to help me along my journey to achieving the ultimate goal of winning the world cup next year with England in Sydney and eventually winning the Champions League with my club team.
Reach / Links
Greatest successes
Winning the European Championships in 2019 with England
Having my daughter
Getting married
Key figures for sponsors
I have been on a tv program called Footy Pups (presented by Rachael Yankey former Arsenal player)
Attended Sports Personality of the year in 2017.
Coverage of our Cup Final (which I was apart of) last year was Live on BT sport and Sky Sports News
Twitter = 711 Followers
Instagram = 595 followers
Connected Profiles
Aspire Powerchair Football Club

(Club)