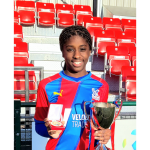 Summary
Highly rated young women's football player at Crystal Palace FC set to be the next big star in the sport. At 15 years of age Malaika dazzles the fans with her lighting speed and her amazing left foot.
Description
15 Year old women's footballer playing for professional team Crystal Palace F.C in London, England.
Set to sign a professional contract next year when promoted to the senior team.
Well known and stands out for having great speed and an amazing left foot.
Residing in south London and having an African heritage, appeals to the black communities in London.
Young and trendy relating to the younger audience.
Has a personal fan base within the supporters at the club.
Team England have been scouting her and are in the process of adding her to the developmental pathway.
Sponsorship Usage
Football boots for 3 different surfaces in the season
Casual Sportsgear
Travel expenditure to and from games
Muscle development sessions with personal training
Food shopping for healthier scratch cooking meals
Reach / Links
Key figures for sponsors
When playing for senior team games will have tv coverage in United Kingdom.
Senior team audience of up to 1000 per event.