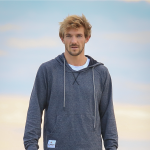 Summary
Movement Artist | 3x National Finalist on American Ninja Warrior | Parkour Athlete | Stuntman
Description
Or should I say "ModernTarzan" is a famous movement artist who over the passed 3 years has been blowing up on social media and proving his super human strengths as a top competitor on the hit TV show American Ninja Warrior.
His unique and playful media creations will blow your mind and make you laugh at the same time. He's gained over 200K followers on social media after only a few years and is still growing daily.
Besides being a professional ninja Tarzan is a world renowned Acroyoga performer and instructor.
Shortly after meeting him in person you'll either find yourself being lifted effortlessly off the ground and or find him handstanding on your shoulders.
He is the definition of a real life super human and doesn't let the everyday obstacles of life slow down his optimistic outlook on the world.
Reach / Links
Greatest successes
3x national Finalist on American Ninja Warrior
3x Competitor on the elite Ninja Vs Ninja show
Over 200,000 followers across his social media
Founding athlete of the World Free Running and Parkour Federation
Certified AcroYoga Instructor and Performer
Recognized on the streets daily
Key figures for sponsors
Known from: American Ninja Warriors (3xNational Finalist-American Ninja Warrior)
High social media reach
Instagram: 199k Follower
Facebook: 11k Likes
Youtube: 5k Subscribers