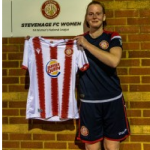 Summary
Recently signed for Stevenage Women FC in Women's FA PL. 20+ years playing. Advocate for addiction and people in recovery, 35 months sober.
Description
I'm a 29-year-old woman who has recently signed for Stevenage Women FC who plays in the National Women Premier League Division 1 South East League. I have 20 years + of playing experience at numerous clubs including my County for 2 Years at Kent FA. had an opportunity to play in Texas for 2 years at a JUCO. I am also in recovery from Alcohol and am currently 35 months sober. Previous to my alcoholism I was playing at a high level, however, alcohol took more preference. Now, I have turned my life around, playing at the level I feel like I deserve. I am passionate, dedicated, and loyal to the game.
Reach / Links
Greatest successes
2-year JUCO in Texas.
34 months in Recovery from alcohol (and counting)
Podcast with Tony Adams
Signing for Stevenage Women FC
20+ Playing experience
Key figures for sponsors
Podcast with Tony Adams,. Ambassador for More Than My Past. Strong support and following on social media. Told my recovery story/football on; BBC Radio 5 Live, BBC Radio Essex.