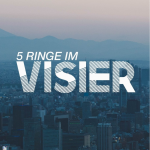 Summary
"5 Rings in Sight" is a high-quality 'mini-series' about the everyday training of 5 Olympians on their way to Tokyo.
Description
The core story:
In the documentary, the athletes Pauline Schäfer, Sebastian Brendel, Nadja Pries, Neele Eckhardt and Jonathan Horne are accompanied by a professional film team. The focus is on the hard training before the mega-event "Tokyo 2021". The aim is to bring the viewer closer to all 5 sports (BMX, canoeing, karate, gymnastics and triple jump) and to show how much effort is needed even in these sports, commonly dubbed as "fringe sports", to make it to the top.
Series:
In order to be able to report on the athletes in a structured way, the documentary will be divided into several episodes. In each episode, training and competition highlights are shown. The suspense culminates in the grand finale of the last episode - the competitions in Tokyo.
Main focus:
Training - the daily business of an athlete
Insights - analyses of the technique and special features of the sports
Ups & Downs - the mental focus of sport
Olympics - the magic of the mega-event
Greatest successes
The goal of reaching the Olympic Games is the greatest, but also the most beautiful challenge for athletes worldwide. To achieve the standard alone, to surpass it, could not be more different in the individual sports. Qualification is not equal to qualification.
From October 2019, the fans of 5 Ringe im Visier, the athletes*innen on Instragram, Facebook and Youtube can follow. In the process, 5 Ringe im Visier will show exclusive behind-the-scenes footage of how the documentary is made. First personal from the life of the exceptional athlete. Every 2 months a new episode is created on Youtube. In several episodes the path of the athletes* can be marveled at. Real and hidden insights, as well as sweat and toil.
Everything in a large format and in a season called: 5 Rings in Sight
Key figures for sponsors
The athletes featured in the series have a cumulative reach of 85,000 followers.
The series' own channels will create additional reach
Fancybox.bind("[data-fancybox]", { // Your custom options });