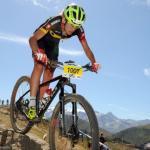 Summary
Cross country rider from Poland 2x bronze medal in World Champs (2010, 2012) Silver medal in European Champs (2012) Olympian London 2012
Description
I am mountainbiker from Poland. I ride mostly XC races (olympic format), but also road and cyclo-cross.
I achieved two bronze medals on World Championships (2010, 2012), silver on European Championships (2012) and I was on Olympic Games in London 2012. I was four times on World Cup podium and I achieved more than twenty medals in National Championships in different cycling races. My best results were in U-23 category. At the moment I am working hard to make my best in elite.
I graduated physiotherapy. I can speak English, German and Polish and now I am learning Italian.
My cycling goals are very clear - I want to fight on Olympic Games in Tokyo 2020 and Paris 2024. I work with media very easily and I like to build up new ideas which fit best sponsor's demandings.
In my career I was working with many different companies from different countries (USA, Austria, Poland, Czech, Taiwan). I have experience in sponsorship cooperation, I am opened for company ideas but I also give my best to make our journey interesting and full of successes.
Reach / Links
Key figures for sponsors
My Facebook page has over 4.000 likes
My Instagram account has over 1.000 likes
I have also Twitter and Youtube accounts
My followers are 60% men and 40% women
The average age of my followers is between 18 and 34 years
On my personal website I have special place for sponsors logo (with link to sponsor's website)
MTB World Cup serie (7 races per year) is to see in Red Bull TV