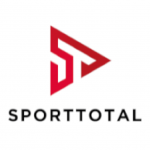 Summary
SPORTTOTAL is the sports content platform for all sports and clubs to shape a digital future.
Description
In addition to the Regionalliga West, the Regionalliga Nord, the Regionalliga Bayern and the Regionalliga Südwest, SPORTTOTAL also runs the Women's Basketball Bundesliga (DBBL), the Junior and Youth Basketball Bundesliga and more than 200 other competitions.
In addition to excellent live events, we entertain our users with quickly available and high-quality highlights such as game summaries, specials, talks and much more.
Many games at regional league level are produced by us at TV level via our in-house broadcast team. Another large part of our live events are produced with our automated camera technology. We have now broadcast more than 35,000 live events and have become one of the largest multi-sport streaming platforms in Europe.
Reach / Links
Key figures for sponsors
+ 800 teams per week
+ 150,000 fans per weekend
+ 1,600 live events per month

+ 30,000 followers on Instagram
+ 29,000 followers on Facebook
+ 35,500 followers on TikTok
+ 10,000 followers on Youtube
Fancybox.bind("[data-fancybox]", { // Your custom options });