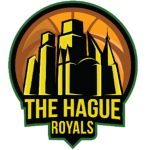 Summary
The Hague Royals is the professional basketbal team of the City of The Hague. Started in 2020 and is a member of the Dutch basketbal community swell as a social partner of the city of The Hague
Description
The Hague Royals is the sleeping giant awoken in Dutch professional basketball. Located in The Hague, the residence of the Netherlands, third city in the country ans the international centre of peace and justice. Two years ago just a blind spot in basketball, now a young and eager organisation , raring to get out of the Covid mire and establish itself as the club of the city and its international population.
The Hague has everything for success. Its inhabitants are among the most international in the world, with more than 100 nationalities living together. It is the community that The Hague Royals caters for, identifying with the city in its colours – green and yellow – its mascotte – Dunky the stork and its host of mainly young volunteers who give the club a special spirit of resourcefulness and spontaneity.
Centering around the team with both local and international players the club aims at playing entertaining basketball , with the team yell " one for all and all for one", dance, raps and games during the breaks, with special focus on the young fans. The youth of the Hague are the biggest target group. The Royals social programme focusses on winning young people for sports in general and specifically basketball. Basketball is ranked as the second most popular sport in The Netherlands among young people. Thus the players give workshops at schools and social centres and the club invites young people to games at an affordable price or for free.
Besides a strong community programme The Hague Royals works with a number of regional basketball clubs to promote the sport and profit from each other's knowledge and expertise. Numerous business partners and social partners have gathered round The Royals because the support the promotion of professional basketball in The Hague and the region Haaglanden. They see the values and actions of The Hague Royals as the right way of doing this.
Reach / Links
Key figures for sponsors
Social media Followers 6000+, Audience 300-800 per game, Businessclub members 28, sponsors 26
Fancybox.bind("[data-fancybox]", { // Your custom options });