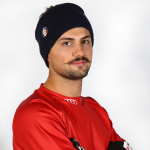 Summary
Athlete of the snowboardcross national team! I participated in the Sochi Olympics and I currently compete in the world cup circuit.
Description
I made my debut in the world snowboard cross circuit in 2010 at Chiesa Valmalenco
In 2011 I got my first victory in the European Cup circuit, winning second place in the European ranking.
The first year of the World Cup was a year of great results as I managed to qualify as tenth in the world rankings, getting two fifth places in Switzerland and Colorado and a second place in the team event also in Colorado.
Finally, I participated, as Blue Athlete, in the Sochi 2014 Winter Olympics and in three editions of the World Championships (2013, 2015, 2017).
Later, during the Italian finals played in Cervinia, I got third place.
Now, I'm getting ready to go and win the Benijing 2022 Olympics!
Greatest successes
Sochi 2014 Winter Olympics
3 editions of the World championship (2013, 2015, 2017).
Key figures for sponsors
18K Instagram - Followers
5K Facebook - Followers
Olympic athlete
Athlete of national interest
Presence on TV, websites, in newspapers and on snowbaord magazines