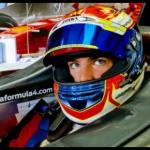 Summary
A 19 years old -Middle Eastern- Formula 3 driver aiming to be one of the world's top Formula 1 racing drivers!
Description
Motorsport is a very different kind of profession that not many understand, and it comes with many politics due to its very high cost and sponsorship opportunities. Therefore, motorsport is very independent to everyone working in this environment, as teammates battle for their results and try to continue in this business-like sport to make a career for themselves, while under high pressure coming from teams and sponsors.
As a Jordanian, coming from the Middle East to a competitive environment that many have had a lifetime experience in, where drivers start racing at a very young age, this has been a big challenge.
The sport back home was never as focused as it is in Europe, and so learning everything from scratch when I started at 16 years old -which considered a very late age to start- was a big task at hand to try to catch up to everyone's driving style, and understanding of the sport. Now around four years in, I am competing in the BRDC British F3 championship. One of the highest levels of single-seater racing. I have had to experience the season so far in an unusual manner, living alone in the UK and not able to be back home for almost four months of constant pressure.
I had to learn to be independent since I started karting. Though driving in an internationally known series in formula-3 with a very high budget put into it -thanks to my father's support- and having to manage things such as dealing with my car mechanics, team manager, living cost-effectively, keeping a healthy lifestyle, and finding every possible way to enhance myself and succeed in the most challenging season of my career so far, has not been easy at all.
Finally, I have achieved a podium finish and the first for a Jordanian driver in the fourth round of the championship, and only looking forward from here!
Sponsorship Usage
The sponsorship money will go to funding the driver's participation in championships, training and testing.
In addition to covering travel costs, accommodation and other essential expenses.
Invoices to be provided for every expense made!